I do have a few "dirty" locs, the idea came to mind, to clean them "ultrasonic". So, after reading a few reviews about ultrasonic cleaners, we decided to buy one … The result is an E-sonic 1200GH
Technical specifications:
High power ultrasonic transducer for superior cleaning
1300 ml Stainless steel tank – size 22.8 x 13.3 x 15.8 cm
Plastic lift out tray with handle
Transparent lid with blue light to view the cleaning process
Digital display 3 digit LED
On/off light touch switch with 5 working cycles
Programmable timer
Voltage 220/240, Wattage 60
Ultrasonic frequency 40KHz
Weight 2.15 kg
Heated radiator
I did a little test, with "dirty" euro-coins, just to see if it works like they promised. The result is very good ! So, I will surely use this ultrasonic cleaner for loc-parts and air-brush cleaning.
---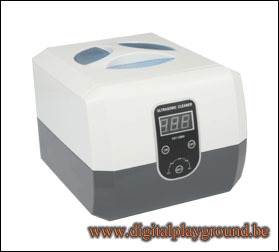 ---