I bought an Apple Macbook Pro 15″ with Retina display for Christel 🙂
After seeing Christel drool for more then a year, when I was working on my Imac, I decided it was time for some changes. Out with the last non-Apple PC ! (in our living-room, for my machinery I still need M$ windows)
This machine is a real beauty, I start to drool now, when Christel is working on the Macbook ! I hope I also get such a shiny macbook for Christmas 🙂
Specifications:
Retina display: 15.4-inch (diagonal) LED-backlit display with IPS technology;
2880-by-1800 native resolution at 220 pixels per inch with support for millions of colors
NVIDIA GeForce GT 650M with 1GB of GDDR5 memory
2.7GHz quad-core Intel Core i7 processor (Turbo Boost 3.7GHz) – 6MB shared L3 cache
16GB of 1600MHz DDR3L onboard memory
720p FaceTime HD camera
802.11n Wi-Fi wireless networking;4 IEEE 802.11a/b/g compatible
Bluetooth 4.0 wireless technology
Dual display and video mirroring: Simultaneously supports full native resolution on the built-in display and up to 2560 by 1600 pixels on up to two external displays, at millions of colors
Thunderbolt digital video output
Native Mini DisplayPort output
DVI output using Mini DisplayPort to DVI Adapter (sold separately)
VGA output using Mini DisplayPort to VGA Adapter (sold separately)
Dual-link DVI output using Mini DisplayPort to Dual-Link DVI Adapter (sold separately)
SDXC card slot
Apple Thunderbolt to FireWire Adapter (sold separately)
Apple Thunderbolt to Gigabit Ethernet Adapter (sold separately)
Stereo speakers
Dual microphones
Headphone port

Headphone/optical digital audio output (minijack)
Support for Apple iPhone headset with microphone
Full-size backlit keyboard with 78 (U.S.) or 79 (ISO) keys, including 12 function keys and 4 arrow keys (inverted "T" arrangement) with ambient light sensor.
Multi-Touch trackpad for precise cursor control; supports inertial scrolling, pinch, rotate, swipe, three- finger swipe, four-finger swipe, tap, double-tap, and drag capabilities.
Up to 7 hours wireless web
Up to 30 days standby time
Built-in 95-watt-hour lithium-polymer battery
85W MagSafe 2 Power Adapter with cable management system; MagSafe 2 power port
Line voltage: 100V to 240V AC
Frequency: 50Hz to 60Hz
Operating temperature: 50° to 95° F (10° to 35° C)
Storage temperature: -13° to 113° F (-24° to 45° C)
Relative humidity: 0% to 90% noncondensing
Maximum operating altitude: 10,000 feet
Maximum storage altitude: 15,000 feet
Maximum shipping altitude: 35,000 feet
---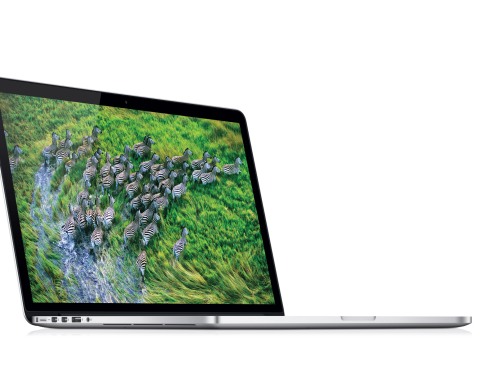 ---