In september 2008, we had a big trip trough some countries and cities in Europe.
Due to some medical limitations, I'm not allowed to use airplanes, so travelling by car
will be our main transportation utility during our holidays.
We first planned on going to Austria (NOT Australia, there are really no kangeroos in Austria) or Italy, but at the last moment,
we changed our plans … The day before our departure, I had the idea of going trough France, Monaco, Italy, Austria & Germany.
I booked all of our hotels, the day before our departure 😉
A small overview of the trip we made (route was actually logged by our GPS logger), spanning a few weeks …
This trip by car was about a total of 4000 kilometers. A lot of people say to us that this is to much for a holiday,
but driving about 400 kilometers every 3 days isn't really that much …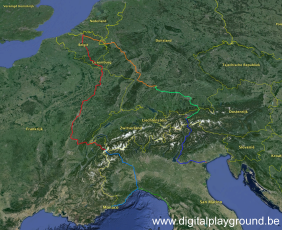 We started our trip, by driving to Chamonix (we have been there before), to visit the top of the Mont-Blanc (Chamonix – France).
After that, we went trough the Mont-Blanc tunnel, into Italy, driving trough the Aosta-valley.
Then, we visited Nice (France).
After Nice, came Monaco …
Pisa was our next stop …
We passed Firenze, and went to Venice …
Innsbrück (Austria) was our next stop, passing the Brenner …
The last country was Germany, where we visited Göppingen. (Märklin Erlebenis Welt an hotel "HohenStaufen", where they had märklin trains inside the tables in the bar).
After Göppingen, we passed Stuttgart, and went back home !