This weekend, our set-top-box from "Telenet Digital TV" died ! Because we already tought about switching to satellite reception this year, this was the moment to buy a dish-set. (a bit earlier then forseen). So, now we pay about half of the price we payed Telenet to watch television, and we have a lot of extra channels ! (Even some channels where you needed to pay extra for with Telenet)
Check out the TV-vlaanderen website for more info, we have about 2500 TV-channels now !
This is our first set:
Philips HD DSR 7121/7122 receiver
Dish (Triax, 64 cm)
Duo LNB Twin
Wall bracket
20 meter coaxcable & 2 F-connectors
Screws
Compas (To easily find the ASTRA satellites)
TV Vlaanderen smartcard
The advised price was 429 euro, but we only paid 319 euro 🙂
Note:
– Duo LNB, gives you the possibility to receive 2 satellites at once, without moving your dish. (in our case, 19.2° east and 23,5° East)
– The "Twin" option, makes it possible to connect 2 sat-receivers at once ! (we are planning extra receivers for the bed/bath-room/garage)
Note during re-design of our website:
We also have a Technisat Multitenne now, so we can view ALL astra channels and hotbird. We Also bought 2 extra tuners: SAB Titan II HD. With these devices, we can directly record video to our Synology NAS. A SmartWII system, takes care of sharing one original TV-Vlaanderen smartcard with these 3 tuners !
---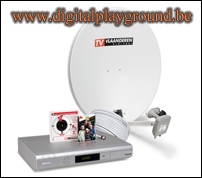 ---