This is one of those 3 exception postings, that do exist way longer then this website 🙂
Back in the year 2000, I was selected as a preview member by the Lego company, for the release of the Vision Command. (I was already a mindstorms forum host at that time, and received gifts from Lego from time to time) Worldwide they selected 5 preview members.
Kris Wauters in Belgium (me)
Soren Rolighed in Denmark
JP Brown in Chicago Illinoise (US)
Yoshihito Isogawa Jana
Jon Nellis, also in the US
We received this set, together with a disposal camera and a pre-paid DHL bag, to send the camera back. I got ill or something (I can't remember exactly), but I do know that I was unable to deliver my project in time. I also noticed that Lego also still had a lot to learn about software development. The included software was way to slow on my 266 Mhz MMX computer (hey, remember, it was the year 2000 !)
So, I decided to write my own ActiveX component, so I could use the Vision Command camera, from within my own VB applications. Back then, I had a website called 'snoozysplace'. (My nickname was Snoozy in those days) After about a year and half, I had about 12800 registered users of my Vision Command ActiveX.
(I'm even aware of the fact that my component was using in some Robotics classes on certain universities !)
For those, still looking (again) for ActiveX component, I created this posting. You can download the complete sources of the ActiveX, the ActiveX itself, and a VB sample application. There are no restrictions, no passwords, nothing, consider it *Freeware*
Note that the URL and emailaddress in screenshots and documentation about this component, are no longer valid !
Click here to download the ActiveX / sourcecode / VB Sample application
---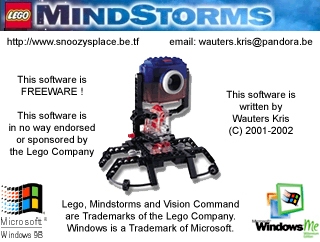 ---