even tough it's Sunday, I don't have a lot of time to do some coding …
Today was a Sunday the Christel had to work half a day, and it's also Valentine !
So, This morning I managed to repair the 22″ LCD monitor from my brother in law, and the rest of the morning
I did spend in cleaning up my mess, taking a bath, and prepairing the fondue set.

I did manage however, to squeeze in a little bit of "coding time", I did create the speed-control for the locomotive screen.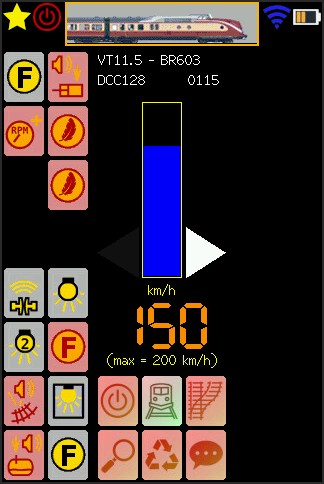 Whenever the max. speed is defined in the EcoS, speed indication is done in km/h. Otherwise, speed indication will be in %.
The Blue bar above the speed-indicator, is filled however with the percentage of the loc-speed, to have a visual indication
when you (almost) reach the top-speed …
Furthermore, there is an arrow on the left and right of this indidator bar. When the white arrow on the right, lights up, it means that the locomotive is driving forward. If the left arrow (red) lights up, the locomotive is driving in backward direction …

This is it for today, now I'm going to spend some quality time with my wife …
Savouring a fondue diner and enjoying each others company …

Happy Valentine everybody 🙂